Convert photos from Digital cameras to Text
There are a few accurate OCR that can convert images taken from a digital camera. TopOCR developed SnapReader to ensure better picture to text conversion.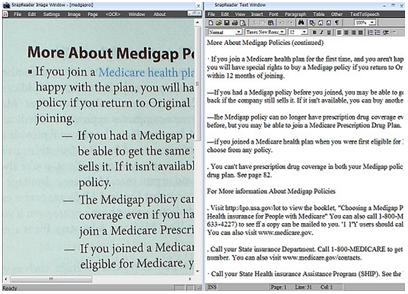 TopOCR software created this freeOCR software just for digital cameras and smartphones. It uses the best and most powerful neutral net pattern recognition and digital signal processing techniques, to ensure accuracy.
It is different from most OCR scanners because all of them are mostly designed for scanners. TopOCR realizes images from digital cameras and smartphones differ in image quality. Therefore, the OCR processing in TopOCR is stronger and uses the most refined processing algorithms, which older OCR softwares lack.
SnapReader provides the user troubleshooting steps that allow you to improve OCR image conversion. You can change character size, adjust light and background settings and also provide users with adaptive binarization settings.
Other salient features available with SnapReader:
Supports eleven languages
Voice synthesizer
Output is available in PDF format
Text editor that resembles Wordpad
SnapReader supports the following formats, TIFF, PNG, GIF, JPEG and BMP. If an image has both text and graphics, SnapReader can process the text region with the help of its page parser.
There are not many OCR applications that can conver photos from digital cameras to text for free. SnapReader is one of the accurate OCR software's in this league.