Are you currently using online2pdf to convert webpages to PDF? Are you fed up with it? You can't be the only one. I mean, how many times have you wanted to convert that webpage into a nice PDF, only for online2pdf to crash your browser or otherwise not work properly?
There are many online2pdf.com alternatives available that allow you to convert your online documents into PDFs. You can then utilize services for converting different file formats to PDFs. These services include MyFreeOCR and many more.
Let's see how they compare with Online2PDF.
What is Online2PDF?
Online2PDF is a free online PDF converter that you can use to convert documents into PDF files. Their service works on all platforms and browsers, including iOS, Android, and Windows. Using Online2PDF means that you don't need to install any software on your computer.
It supports a wide range of file formats, but it cannot convert all types of files. The online tool has a limitation in its conversion capacity as it can only convert at most 20 files on one occasion. Users have to wait for a day before they can convert other files again.
The file size limit can be a problem if you want to merge multiple large files into one PDF or if you want to export PowerPoint presentations with many images.
Choosing the Right Alternatives to Online2PDF
I'm sure you've already used Online2PDF to convert documents, invoices, and more into pdf. But there are alternative apps in the market that can do the same and more. So, let's find out which one is the best alternative to Online2PDF.
1. MyFreeOCR
The best alternative to Online2PDF is MyFreeOCR. While both have their pros and cons, they make up for what the other lacks. For example, MyFreeOCR is an online image-to-text converter tool that you can use to convert files quickly.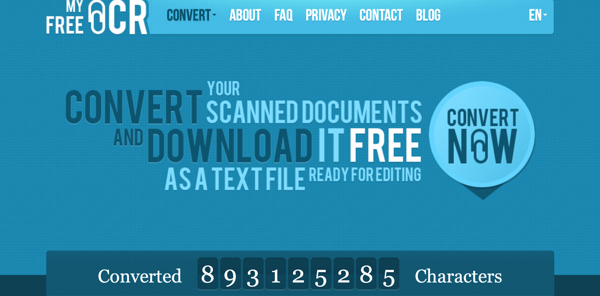 MyFreeOCR is a fast and easy-to-use tool that enables you to scan or upload images for further processing and then convert them into online PDFs.
You can use MyFreeOCR to convert documents, images, and more to PDF format. To convert a document, you can follow these steps:
Visit myfreeocr.com.
Upload the file that you want to convert to PDF.
Select the language (this is optional).
Select the output file format (PDF is selected by default).
Click on Convert.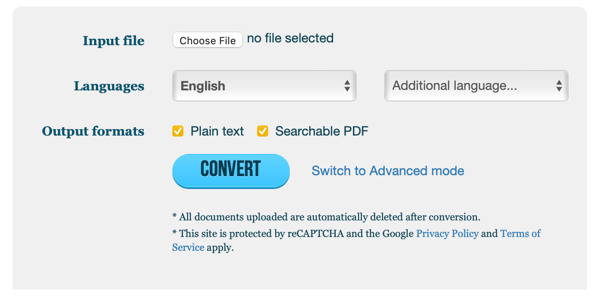 Once you click on Convert, the file will be downloaded instantly to your system. You can then use your converted PDF any way you like.
MyFreeOCR is an online website only so you don't have to install it on your system to use the tool. It also preserves the layout and formatting of files while conversion so you can be sure that the final PDF file will have all the contents of the input file.
One of the major benefits of MyFreeOCR, when compared to Online2PDF, is that in addition to converting documents to PDF, you can also use MyFreeOCR as an online OCR tool. This means you can convert your scanned documents, images, or screenshots into readable computer format (like PDF).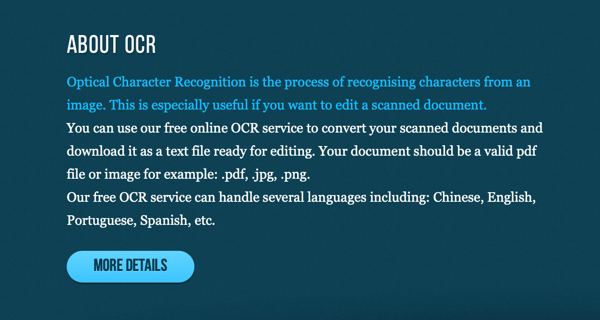 MyFreeOCR supports over a dozen file formats like PDF, PNG, JPEG, JPG, TIFF, BMP, TXT, DOCS, and more! Also, you can not only convert documents in the English language, but you can convert documents in multiple international languages like Chinese, Spanish, French, Italian, and so on.
Note: Optical character recognition (OCR) is the recognition of printed or written text characters by a computer. This involves photo scanning of the text character-by-character, analysis of the scanned-in image, and then translation of the character image into character codes, such as ASCII.
2. EasePDF
EasePDF is another online tool that you can use to convert files to PDF format. This tool supports the following conversions:
Word to PDF
Excel to PDF
JPG to PDF
PNG to PDF
PPT to PDF
HTML to PDF
You can also edit PDF files, add watermark, rotate, or number the pages in the EasePDF tool. Overall this is a great online tool for converting online files to PDFs.
3. iLovePDF
This is a famous online tool that offers over a dozen PDF-related operations. You can use iLovePDF to merge PDF, split PDF, compress PDF, convert PDF to Word, PDF to Powerpoint, PDF to Excel, Word to PDF, Powerpoint to PDF, Excel to PDF, PDF to JPG, HTML to PDF, and more!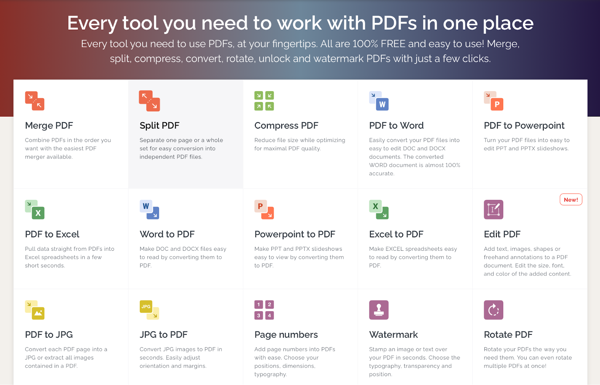 In addition to all the conversions, iLovePDF can also help you add watermarks in PDFs, add page numbers, rotate pages, edit PDF files, unlock PDF, organize or repair a PDF file.
iLovePDF offers dedicated apps for Windows, Mac, Android, and iPhone, so you can use them on any device you want. You can also integrate your Google Drive or Dropbox account with iLovePDF to easily access your files from the cloud storage.
Final Words
We hope you were able to find the perfect Online2PDF alternative for your needs, and that you enjoyed reading about some of these fantastic software alternatives.
Remember, there's no harm in trying out a few different options to find what works best for your specific needs and/or style.
Simply put, MyFreeOCR is a great alternative to Online2PDF. You can use it to convert files to PDF format and even use its OCR conversion function to convert scanned documents to online files.
FAQs
Is Online2PDF safe to use?
Yes, Online2PDF is completely safe to use. It is a web app that works with all major browsers like Chrome, Firefox, and Internet Explorer. It is a free online tool that can be used to convert your files to PDF with the options to edit, merge and unlock PDFs.
How can I convert a PDF file for free?
You can use a free tool like MyFreeOCR to convert any file to PDF format. Go to myfreeocr.com, select the document that you want to convert, and click on Convert. Your converted PDF file will be then available for you to download.
How do I turn a PDF into a TXT?
Assuming that you want to convert the PDF file into a simple text file, which can be opened by any text editor, you can use the MyFreeOCR tool to convert your PDF file to TXT format. Simply visit myfreeocr.com, select your PDF file, and click on Convert.
Is it safe to reduce PDF size online?
Compressing your PDF online is safe. In most cases, the compression is done in the browser on your machine. Only the compressed files are uploaded, so the privacy and safety of your original file remain intact.